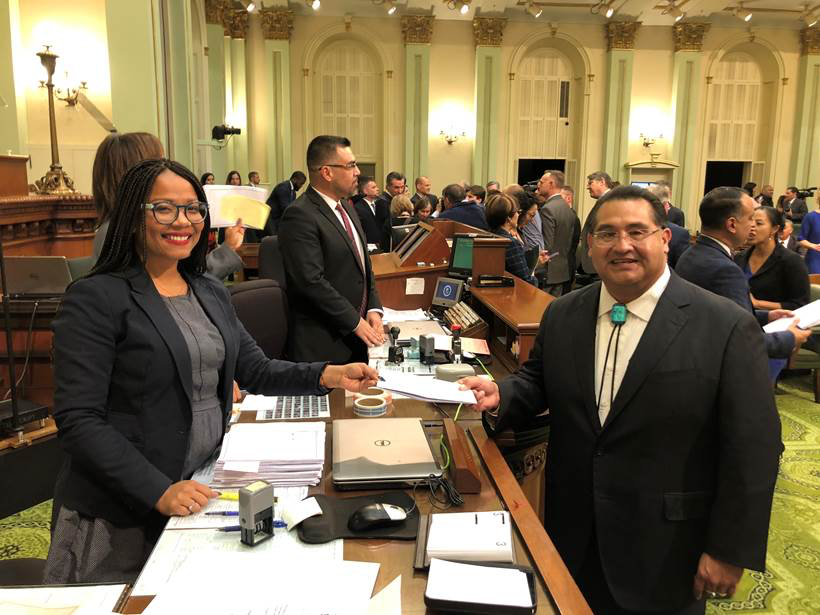 (Sacramento, CA) – Among his family and close friends, James Ramos was sworn in today as State Assemblymember of the 40th Assembly District, making history as the first California Indian from the Serrano/Cahuilla tribe to be elected to the Assembly.
"It is an incredible honor to have this opportunity to represent the 40th Assembly District," said Assemblymember Ramos. "We celebrate today, but tomorrow we roll up our sleeves and get to work. I will use my experience of 13 years of local government, including my tenure serving on the San Bernardino County Board of Supervisors, to leverage resources from Sacramento to bring to our community and prioritize my efforts to foster economic development, address homelessness, advocate for homeless youth, social bullying, promote technical trades apprentice programs, improve education access and keep our neighborhoods safe."
Immediately after being sworn in, Assemblymember Ramos introduced AB 34, his first bill to address social bullying to provide students a safe, supporting learning environment.
Ramos has deep ties to his community and is a proven civic leader. He was the first Native American to be elected to the San Bernardino Board of Supervisors and the San Bernardino Community College Board of Trustees. Ramos is also immediate past Chairman of the San Manuel Band of Mission Indians.